University Press Books


A Shoemaker's Story
Princeton University Press, 2008

On a June morning in 1870, seventy-five Chinese immigrants stepped off a train in the New England factory town of North Adams, Massachusetts, imported as strikebreakers by the local shoe manufacturer. They threaded their way through a hostile mob and then -- remarkably -- their new employer lined them up along the south wall of his factory and had them photographed as the mob fell silent. So begins A Shoemaker's Story. Anthony Lee seeks to understand the social forces that brought this now-famous photograph into being, and the events and images it subsequently spawned. He traces the rise of photography as a profession and the hopes and experiences of immigrants trying to find their place in the years following the Civil War. He describes the industrialization of the once-traditional craft of shoemaking, and the often violent debates about race, labor, class, and citizenship that industrialization caused.

Generously illustrated with many extraordinary photographs, A Shoemaker's Story brings 1870s America to vivid life. Lee's spellbinding narrative interweaves the perspectives of people from very different walks of life -- the wealthy factory owner who dared to bring the strikebreakers to New England, the Chinese workers, the local shoemakers' union that did not want them there, the photographers themselves, and the ordinary men and women who viewed and interpreted their images. Combining painstaking research with world-class storytelling, Lee illuminates an important episode in the social history of the United States, and reveals the extent to which photographs can be sites of intense historical struggle.

Winner, 2009 New York Book Show Award, Scholarly and Professional Category

"A Shoemaker's Story is a brilliant book that fully conveys the richness of historical meaning common photographs can bring to light in the hands of a skillful interpreter. Anthony Lee's tale of multiple encounters among Yankee townspeople and factory owners, Chinese and French Canadian migrant laborers, and itinerant and studio photographers in North Adams, Massachusetts, is full of insight into the confluence of United States labor history, ethnic studies, and visual culture. Beautifully written as well, it will be required, desired, and inspired reading for anyone's list." -- Laura Wexler, Yale University

"Wonderfully innovative and original, Anthony Lee offers a fascinating story that weaves together the history of manufacturing, labor, immigration, and photography. The photograph here becomes a new kind of historical evidence to be mined and untangled, a constellation of competing forces and desires. Beautifully written in remarkably lucid, playful prose. A real pleasure to read." -- Shawn Michelle Smith, School of the Art Institute of Chicago


---
Weegee and Naked City, with Richard Meyer
University of California Press, 2008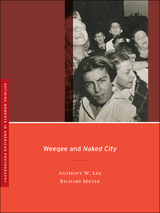 Arthur Fellig, better known as Weegee, and his 1945 photography book, Naked City -- with its lurid tabloid-style images of Manhattan crime, crowds, and boisterous nightlife -- changed prevailing journalistic practices almost overnight. In this volume, two art historians, Anthony W. Lee and Richard Meyer, bring markedly different outlooks on photography and modernism to their discussions of Weegee and his book. Meyer looks carefully at Weegee's pictures before and after they were collected and assesses how his practice of tabloid photography was inseparable from his own lowbrow appeal. Lee paints the vivid details of a leftist journalism world in 1930s and 1940s New York and shows how this world helped shape the photographer's vision. These essays restore the Naked City photographs to the mass circulation newspapers and magazines for which they were intended, and they trace the strange process by which the most famous of these pictures -- suffused with blood, gore, and sensational crime -- entered the museum.

"Groundbreaking. Lee and Meyer delve deeply into a rich archive of media and exhibition history, criticism, and biography to arrive at original interpretations of the most enigmatic photographer in modern visual and print culture." -- Jordana Mendelson, New York University


---
On Alexander Gardner's Photographic Sketch Book of the Civil War, with Elizabeth Young
University of California Press, 2007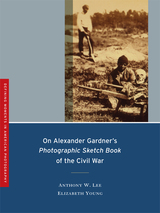 Soon after Alexander Gardner's Photographic Sketch Book was published, in 1866, it became the Civil War's best-known visual record and helped define how viewers, then and in subsequent generations, would come to know the war. Gardner's classic also became foundational in the history of American photography, combining, for the first time, words and images in a sophisticated and moving account. This book, written by the art historian Anthony W. Lee and the literary scholar Elizabeth Young, interprets the story of the war as told by Gardner, unraveling his careful choice of words and images and the complicated play between them, and understanding them against the backdrop of the literary and photographic cultures of the American antebellum and Reconstruction eras. This book presents a unique study of a pivotal American historical document, approaching it from the perspective of visual studies as well as American literature and history.

"A complex, enlightening, and elegant study of a significant Civil War-era document that also greatly enhances our understanding of a nineteenth-century visual culture. The analysis and format of this collaborative effort will serve as a model for cultural scholarship for years to come." -- Joshua Brown, The Graduate Center, City University of New York


---
Diane Arbus: Family Albums, with John Pultz
Yale University Press, 2003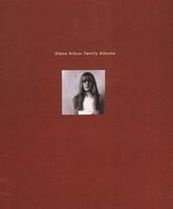 "Diane Arbus (1923-1971) is renowned for her provocative and unsettling portraits of modern Americans. This book presents a significant body of previously unpublished pictures by Arbus and proposes a radically new way to understand her goals, strategies, and overall work.
Diane Arbus: Family Albums
examines unknown contact sheets from several of Arbus's portrait sessions, including more than 300 photographs she took of a New York family one weekend in 1969. Anthony Lee and John Pultz put to the test Arbus's claim that she was developing a "family album." They present other images Arbus shot for
Esquire
magazine (including pictures of the families of Ricky Nelson, Jayne Mansfield, and Ogden Reid) and discuss her interest in photographic groupings of both traditional and alternative families. Challenging common interpretations of Arbus, the authors reveal a photographer far more savvy with the camera, more aware of photography as an artistic and commercial practice, and more sensitive to the social and cultural tensions of the 1960s than has been acknowledged before.
"
Diane Arbus: Family Albums
is a handsome and affordable anchor to the exhibit [of the same name], with a strong theme and excellent critical essays by Pultz and Lee that effectively establish the significance of Arbus's photographs to American cultural history. At a moment when many clung to idealized representations of the nuclear family, Arbus showed its fragility with images of single mothers, rebellious children, sex workers, feminists, and biracial couples. Family Albums sets the loosely defined concept of 'family' in the context of a nation deeply divided by disagreements about civil rights, war, gender equity, and separation of church and state." -- Rachel Adams, Columbia University

---
Yun Gee: Poetry, Writings, Art, Memories
University of Washington Press, 2003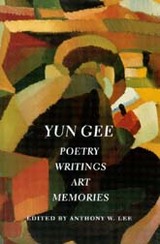 This volume presents a selection of paintings, poetry, essays, and ephemeral writings by the Chinese American modernist Yun Gee (1906–1963), together with essays about the artist. Yun Gee arrived in San Francisco from Guangdong Province at the age of fifteen and within a few years established himself as one of the city's most daring avant-garde painters. But all of his astonishing efforts with the brush and palette ran up against an intense anti-Chinese sentiment. He seemed never to escape the high social price of being Chinese -- not in San Francisco, Paris, or New York, where he ended his days. This collection of writings and images represents the eclectic interests and disappointed hopes of a man who was by turns a political revolutionary, cultural radical, social visionary, teacher, inventor, painter, and poet.

As a unique collection of materials documenting the expressions of an Asian American artist of the first half of the 20th century, this book illuminates not only the life and work of the multifaceted Yun Gee, but also the experiences of Chinese immigrants who came of age in America during the Exclusion Era. Anthony Lee's essays and the materials he has gathered here reveal the utopianism, anger, and anxiety that were the traces of an entire generation's racialized existence.

"[Lee] has left no stone unturned to seek out information about Yun Gee and show him in all the glory that can be mustered for the occasion. . . . In [Yun Gee's] version of the American Dream his potential may have been stunted by the lack of seriousness that a Chinese painter could expect from American society at that time; reading this book, it is hard not to feel sad at the wasted potential. As a social and historical document it helps to place one strand of the Chinese experience in perspective within the development of the human and artistic mosaic that is American culture." -- Tao Tao Liu, Oxford University


---
Picturing Chinatown: Art and Orientalism in San Francisco
University of California Press, 2001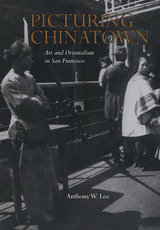 This visually and intellectually exciting book brings the history of San Francisco's Chinatown alive by taking a close look at images of the quarter created during its first hundred years, from 1850 to 1950. Picturing Chinatown contains more than 160 photographs and paintings, some well known and many never reproduced before, to illustrate how this famous district has acted on the photographic and painterly imagination. Bringing together art history and the social and political history of San Francisco, this vividly detailed study unravels the complex cultural encounter that occurred between the women and men living in Chinatown and the artists who walked its streets, observed its commerce, and visited its nightclubs.

Artistic representations of San Francisco's Chinatown include the work of some of the city's most gifted artists, among them the photographers Laura Adams Armer, Arnold Genthe, Dorothea Lange, Eadweard Muybridge, and Carleton Watkins and the painters Edwin Deakin, Yun Gee, Theodore Wores, and the members of the Chinese Revolutionary Artists' Club. Looking at the work of these artists and many others, Anthony Lee shows their experiences in the district helped encourage, and even structured, some of their most ambitious experiments with brush and lens.

In addition to discussing important developments in modern art history, Lee highlights the social and political context behind these striking images. He demonstrates the value of seeing paintings and photographs as cultural documents, and in doing so, opens a fascinating new perspective on San Francisco's Chinatown.

Winner, 2002 Charles C. Eldredge Prize for Distinguished Scholarship in American Art, National Museum of American Art, Smithsonian Institution.
Winner, 2003 Cultural Studies Book Prize, Association of Asian American Studies.

"In his graceful integration of insights and literature from the disparate fields of art history, history, and ethnic studies, and with his focus on a little-known body of visual images and image makers, Lee has written a book that promises to make a significant contribution in terms of both subject and methodology. The residents of his Chinatown are not merely subjects of an orientalizing gaze, they are themselves producers of images, shapers of the neighborhood's distinctive physical appearance, followers of both American and Chinese political and cultural developments. . . . [This] book asserts the possibilities of images as sources of cultural meaning and reinserts art history into a central position in American cultural studies." -- Martha Sandweiss, Princeton Unversity


---
Painting on the Left: Diego Rivera, Radical Politics, and San Francisco's Public Murals
University of California Press, 1998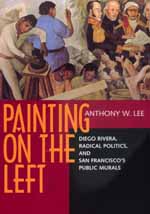 The boldly political mural projects of Diego Rivera and other leftist artists in San Francisco during the 1930s and early 1940s are the focus of Anthony W. Lee's fascinating book. Led by Rivera, these painters used murals as a vehicle to reject the economic and political status quo and to give visible form to labor and radical ideologies, including Communism.

Several murals, and details of others, are reproduced here for the first time. Of special interest are works by Rivera that chart a progress from mural paintings commissioned for private spaces to those produced as a public act in a public space: Allegory of California, painted in 1930-31 at the Stock Exchange Lunch Club; Making a Fresco, Showing the Building of a City, done a few months later at the California School of Fine Arts; and Pan American Unity, painted in 1940 for the Golden Gate International Exposition.

Labor itself became a focus of the new murals: Rivera painted a massive representation of a construction worker just as San Francisco's workers were themselves organizing; Victor Arnautoff, Bernard Zakheim, John Langley Howard , and Clifford Wight painted panels in Coit Tower that acknowledged the resolve of the dockworkers striking on the streets below. Radical in technique as well, these muralists used new compositional strategies of congestion, misdirection, and fragmentation, subverting the legible narratives and coherent allegories of traditional murals.

Lee relates the development of wall painting to San Francisco's international expositions of 1915 and 1939, the new museums and art schools, corporate patronage, and the concerns of immigrants and ethnic groups. And he examines how mural painters struggled against those forces that threatened their practice: the growing acceptance of modernist easel painting, the vagaries of New Deal patronage, and a wartime nationalism hostile to radical politics.

"Anthony Lee is quickly emerging as a key figure for a whole new generation of scholars. This book on Diego Rivera is significant not only for the notable new insights it yields, but also for the disciplinary shifts that it signals. Deftly written yet replete with a density of engaged meaning that inspires critical admiration, this new look at Rivera will remain an important stimulus in the field for quite a while." -- David Craven, University of New Mexico

"Anthony Lee's Painting on the Left raises discussion of art and politics in Depression America to a new level. His persuasive and original interpretation of mural painting in the San Francisco Bay Area, grounded in scrupulous research, relates pictorial choice to the complex interests of local elites, labour organizing, and Communist politics at this turbulent period of San Francisco's history. The analysis of politics is nuanced and satisfying, and it matches with an equally sophisticated address to pictorial form. The writing, too, is fluent and vivid. Here is one of those relatively rare books that fulfills the promise of the Social History of Art." -- Andrew Hemingway, University College London



---
Small Press Books


A River of Dreams: Histories and Photographs of the Hampshire and Hampden Canal
Hadley House Press, 2014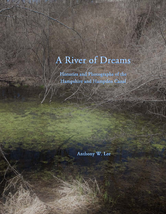 This catalogue accompanies an exhibition at Historic Northampton, August 8 - September 9, 2014. Tracing the origins and development of a zany nineteenth-century scheme to build a canal from western Massachusetts to the Long Island Sound, A River of Dreams tells the story of the challenges confronting the canal's builders and investors, followed by an account of the project's slow (and occasionally comic) demise and its afterlife as a subject for photographers. It reproduces objects associated with the canal in the collection of Historic Northampton and also reproduces a series of ten large-scale photographs by Anthony Lee, who meditates on a landscape marked by ambition and ruin and time's way with folly.




---
World Documents
Hadley House Press, 2011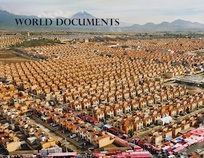 This catalogue accompanies an exhibition at the Mount Holyoke College Art Museum, September 2 - December 18, 2011. Showcasing the social documentary work of eight photographers, World Documents offers examples of how the issues associated with globalization -- of diaspora and transnationalism, migration and displacement, and the tensions and violence surrounding ethnic, racial and religious difference -- are visualized across the globe, from South Africa, to Cambodia, China, India, Mexico, the Middle East, and more. The photographers include Livia Corona, Binh Danh, Jason Francisco, Pok Chi Lau, Ken Light, Julia Komissaroff, Paul Weinberg, and Ouyang Xingkai. The catalogue reproduces in color all 74 works in the exhibition, including stills from a video installation, brief essays by each of the photographers, and an historical overview by its curator, Anthony Lee.
---